Cruise Control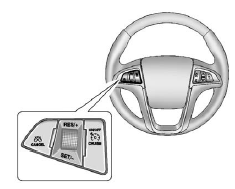 ON/OFF

CRUISE : Press to turn the cruise control system on and off.

CANCEL : Press to disengage cruise control without erasing the set speed from memory.
RES/+: Move the thumbwheel up to make the vehicle resume to a previously set speed or to accelerate.
SET/− : Move the thumbwheel down toward SET/- to set a speed and activate cruise control, or to make the vehicle decelerate.
See also:
Navigation System
If the vehicle has a navigation system, use of the system may result in the storage of destinations, addresses, telephone numbers, and other trip information. Refer to the navigation manual for inform ...
Power Outlets
The accessory power outlets can be used to connect electrical equipment, such as a cell phone or MP3 player. There are four accessory power outlets in the following locations: below the CD slot, ...
Environmental Concerns
○ Always use established trails, roads, and areas that have been set aside for public off-road recreational driving and obey all posted regulations. ○ Do not damage shrubs, flowers, tre ...