Off-Road Recovery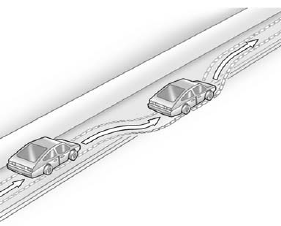 The vehicle's right wheels can drop off the edge of a road onto the shoulder while driving. Follow these tips:
1. Ease off the accelerator and then, if there is nothing in the way, steer the vehicle so that it straddles the edge of the pavement.
2. Turn the steering wheel about one-eighth of a turn, until the right front tire contacts the pavement edge.
3. Then turn the steering wheel to go straight down the roadway.
See also:
Infotainment System Menus
Tone Settings To access the tone settings, press the Home Page Tone button or the TONE button on the faceplate. Use the tone settings to adjust the following features: ○ Setting the tone ...
Storing Memory Positions
To save into memory: 1. Adjust the driver seat, seatback recliner, both outside mirrors, and the throttle and brake pedals, if equipped. See Power Mirrors on page 2‑15 and Adjustable Throttle ...
Engine Compartment Overview
A. Radiator Pressure Cap. See Cooling System on page 10‑14. B. Engine Coolant Recovery Cap. See Cooling System on page 10‑14. C. Remote Negative (−) Terminal. See Jump Starting o ...