Dual Automatic Climate Control System
The heating, cooling, and ventilation in the vehicle can be controlled with this system. The vehicle also has a flow-through ventilation system described later in this section.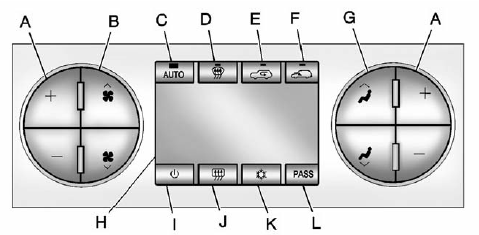 A. Driver and Passenger Temperature Controls
B. Fan Control
C. AUTO
D. Defrost
E. Recirculation
F. Outside Air
G. Air Delivery Mode Control
H. Display
I. On/Off
J. Rear Window Defogger
K. Air Conditioning
L. PASS (Passenger)

(On/Off): Press to turn the climate control system on or off.
Outside air still enters the vehicle, and is directed to the floor. This direction can be changed by pressing the mode button.
Recirculation can be selected once you have selected vent or bi-level mode. The temperature can also be adjusted using either temperature button. If the air delivery mode or temperature settings are adjusted with the system off, the display illuminates briefly to show the settings and then returns to off. The system can be turned back on by pressing either

,

,

,

, the defrost or the AUTO button.
See also:
Passenger Airbag Status Indicator
If the vehicle has one of the indicators pictured in the following illustrations, then the vehicle has a passenger sensing system for the right front passenger position unless there is an airbag off s ...
Reading Lamps
These lamps are located on the overhead console. These lamps come on automatically when any door is opened. For manual operation, press the button next to each lamp to turn it on or off. ...
Dinghy Towing
Two-Wheel-Drive Vehicles Notice: If the vehicle is towed with all four wheels on the ground, the drivetrain components could be damaged. The repairs would not be covered by the vehicle warranty. D ...