Dual Automatic Climate Control System
The heating, cooling, and ventilation in the vehicle can be controlled with this system. The vehicle also has a flow-through ventilation system described later in this section.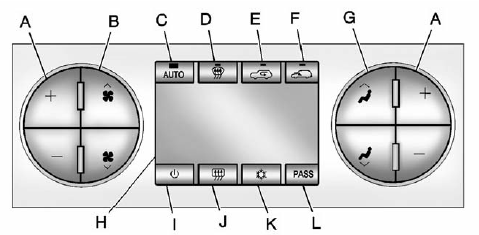 A. Driver and Passenger Temperature Controls
B. Fan Control
C. AUTO
D. Defrost
E. Recirculation
F. Outside Air
G. Air Delivery Mode Control
H. Display
I. On/Off
J. Rear Window Defogger
K. Air Conditioning
L. PASS (Passenger)

(On/Off): Press to turn the climate control system on or off.
Outside air still enters the vehicle, and is directed to the floor. This direction can be changed by pressing the mode button.
Recirculation can be selected once you have selected vent or bi-level mode. The temperature can also be adjusted using either temperature button. If the air delivery mode or temperature settings are adjusted with the system off, the display illuminates briefly to show the settings and then returns to off. The system can be turned back on by pressing either

,

,

,

, the defrost or the AUTO button.
See also:
Navigation System
If the vehicle has a navigation system, there is a separate navigation system manual that includes information on the radio, audio players, and navigation system. The navigation system provides detai ...
Driving on Wet Roads
Rain and wet roads can reduce vehicle traction and affect your ability to stop and accelerate. Always drive slower in these types of driving conditions and avoid driving through large puddles and dee ...
Immobilizer Operation
This vehicle has a passive theft-deterrent system. The system does not have to be manually armed or disarmed. The vehicle is automatically immobilized when the key is removed from the ignition. Th ...