Dual Automatic Climate Control System
The heating, cooling, and ventilation in the vehicle can be controlled with this system. The vehicle also has a flow-through ventilation system described later in this section.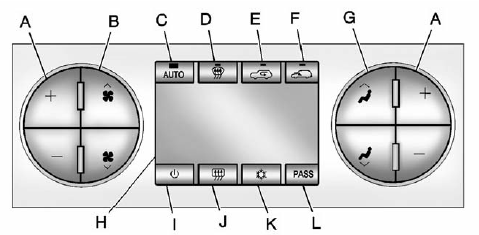 A. Driver and Passenger Temperature Controls
B. Fan Control
C. AUTO
D. Defrost
E. Recirculation
F. Outside Air
G. Air Delivery Mode Control
H. Display
I. On/Off
J. Rear Window Defogger
K. Air Conditioning
L. PASS (Passenger)

(On/Off): Press to turn the climate control system on or off.
Outside air still enters the vehicle, and is directed to the floor. This direction can be changed by pressing the mode button.
Recirculation can be selected once you have selected vent or bi-level mode. The temperature can also be adjusted using either temperature button. If the air delivery mode or temperature settings are adjusted with the system off, the display illuminates briefly to show the settings and then returns to off. The system can be turned back on by pressing either

,

,

,

, the defrost or the AUTO button.
See also:
Tire Pressure Monitor Operation
This vehicle may have a Tire Pressure Monitor System (TPMS). The TPMS is designed to warn the driver when a low tire pressure condition exists. TPMS sensors are mounted onto each tire and wheel as ...
Filling a Portable Fuel Container
WARNING Never fill a portable fuel container while it is in the vehicle. Static electricity discharge from the container can ignite the fuel vapor. You can be badly burned and the vehicle damaged if ...
Exterior
GM says the Yukon Hybrid's exterior changes are intended to make the SUV more aerodynamic compared with the gas-powered Yukon. A modified bumper drops the regular Yukon's fog lights for some chunk ...