Dual Automatic Climate Control System
The heating, cooling, and ventilation in the vehicle can be controlled with this system. The vehicle also has a flow-through ventilation system described later in this section.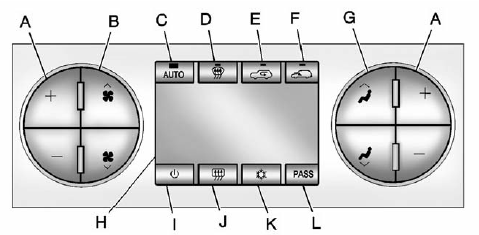 A. Driver and Passenger Temperature Controls
B. Fan Control
C. AUTO
D. Defrost
E. Recirculation
F. Outside Air
G. Air Delivery Mode Control
H. Display
I. On/Off
J. Rear Window Defogger
K. Air Conditioning
L. PASS (Passenger)

(On/Off): Press to turn the climate control system on or off.
Outside air still enters the vehicle, and is directed to the floor. This direction can be changed by pressing the mode button.
Recirculation can be selected once you have selected vent or bi-level mode. The temperature can also be adjusted using either temperature button. If the air delivery mode or temperature settings are adjusted with the system off, the display illuminates briefly to show the settings and then returns to off. The system can be turned back on by pressing either

,

,

,

, the defrost or the AUTO button.
See also:
Sun Visors
Pull the sun visor down to block glare. Detach the sun visor from the center mount to pivot to the side window, or to extend along the rod, if available. ...
Driver Information Center (DIC)
The DIC display is located at the bottom of the instrument panel cluster. It shows the status of many vehicle systems and enables access to the personalization menu. The DIC buttons are located on ...
Going & Stopping
Having driven both the four-cylinder and V-6 Equinox, I can attest that the difference in power isn't appreciable unless you're pushing the car hard or carrying a load of people. My V-6 Terrain dr ...