Four-Way Power Driver Seat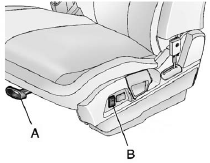 A. Seat Position Handle
B. Height Adjustment Control
To adjust the seat:
○ Move the seat forward or rearward using the handle under the front of the seat cushion (A). See Seat Adjustment on page 3‑3.
○ Raise or lower the entire seat by moving the control (B) up or down.
See Power Seat Adjustment on page 3‑4 for more information.
See also:
Safety Belts
Refer to the following sections for important information on how to use safety belts properly: ○ Safety Belts on page 3‑12. ○ How to Wear Safety Belts Properly on page 3‑ ...
Removing the Spare Tire
The compact spare tire is located under the vehicle, in front of the rear bumper. See Compact Spare Tire on page 10‑77 for more information. A. Rear Convenience Center B. Wrench (Three-Piece ...
Shifting Into Two-Wheel Drive High
Turn the knob to the Two-Wheel Drive High position. This can be done at any speed, except when shifting from Four-Wheel Drive Low. The indicator light will flash while shifting. It will remain on whe ...