Power Liftgate Operation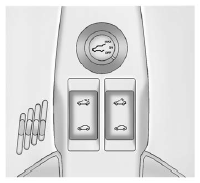 On vehicles with a power liftgate, the vehicle must be in P (Park) to use the power feature. The taillamps flash when the power liftgate moves.
Notice: If you open the liftgate without checking for overhead obstructions such as a garage door, you could damage the liftgate or the liftgate glass. Always check to make sure the area above and behind the liftgate is clear before opening it.
Choose the power liftgate mode by turning the dial on the switch to either the 3/4 or MAX position. Press8to open or close the liftgate.
See also:
Rear Towing (Rear Wheels Off the Ground)
Two-Wheel-Drive Vehicles Use the following procedure to dolly tow a two-wheel-drive vehicle from the rear: 1. Attach the dolly to the tow vehicle following the dolly manufacturer's instructions. ...
TPMS Malfunction Light and Message
The TPMS will not function properly if one or more of the TPMS sensors are missing or inoperable. When the system detects a malfunction, the low tire warning light flashes for about one minute and the ...
Instrument Panel
Instrument Panel A. Air Vents on page 8‑12. B. Windshield Wiper/Washer on page 5‑5. C. Instrument Cluster on page 5‑12. D. Head-Up Display (HUD) on page 5‑33 (If Equipp ...