Brake System Warning Light
With the ignition on, the brake system warning light comes on when the parking brake is set. If the vehicle is driven with the parking brake engaged, a chime sounds when the vehicle speed is greater than 8 km/h (5 mph).
The vehicle brake system consists of two hydraulic circuits. If one circuit is not working, the remaining circuit can still work to stop the vehicle. For normal braking performance, both circuits need to be working.
If the warning light comes on and a chime sounds there could be a brake problem. Have the brake system inspected right away.
This light can also come on due to low brake fluid. See Brake Fluid on page 10‑30 for more information.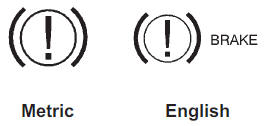 This light comes on briefly when the ignition key is turned to ON/RUN.
If it does not come on then, have it fixed so it is ready to warn if there is a problem.
WARNING
The brake system might not be working properly if the brake system warning light is on.
Driving with the brake system warning light on can lead to a crash. If the light is still on after the vehicle has been pulled off the road and carefully stopped, have the vehicle towed for service.
If the light comes on while driving, pull off the road and stop carefully.
The pedal might be harder to push or might go closer to the floor. It can take longer to stop. If the light is still on, have the vehicle towed for service. See Towing the Vehicle on page 10‑96.
If the vehicle is a hybrid, see the hybrid supplement for more information.
See also:
Emissions Inspection and Maintenance Programs
Some local governments may have programs to inspect the on-vehicle emission control equipment. For the inspection, the emission system test equipment is connected to the vehicle's Data Link Connect ...
Electrical System Overload
The vehicle has fuses and circuit breakers to protect against an electrical system overload. When the current electrical load is too heavy, the circuit breaker opens and closes, protecting the circui ...
Diagnostics
OnStar Vehicle Diagnostics will perform a vehicle check every month. It will check the engine, transmission, antilock brakes, and major vehicle systems. It also checks the tire pressures, if the vehic ...