Lap Belt (Crew and
Extended Cab)

This section is only for the lap belt.

To learn how to wear a lap-shoulder belt, see Lap-Shoulder Belt on page 3‑15.

Your vehicle may have a center seating position. When you sit in the center front seating position, you have a lap safety belt, which has no retractor.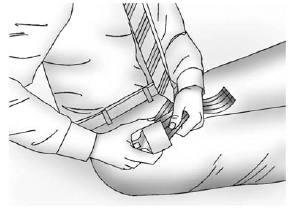 To make the belt longer, tilt the latch plate and pull it along the belt.
Buckle, position, and release it the same way as the lap part of a lap-shoulder belt.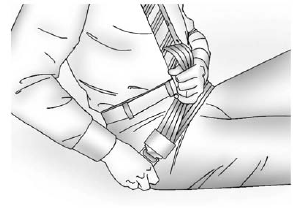 To make the belt shorter, pull its free end as shown until the belt is snug.
If the belt is not long enough, see Safety Belt Extender on page 3‑21.
Make sure the release button on the buckle is positioned so you would be able to unbuckle the safety belt quickly if necessary.
See also:
Checking Coolant
The coolant surge tank is located in the engine compartment on the passenger side of the vehicle. See Engine Compartment Overview on page 10‑6 for more information on location. The vehicle must ...
Hydroplaning
Hydroplaning is dangerous. Water can build up under the vehicle's tires so they actually ride on the water. This can happen if the road is wet enough and you are going fast enough. When the ve ...
Ride Control System Messages
ALL WHEEL DRIVE OFF If your vehicle has the All-Wheel Drive (AWD) system, this message displays when the rear drive system is overheating. This message turns off when the rear drive system cools ...