Sun Visors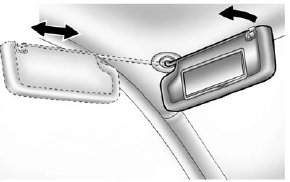 Sun Visors
Pull the sun visor down to block glare. Detach the sun visor from the center mount to pivot to the side window, or to extend along the rod, if available.
See also:
Underbody Maintenance
Use plain water to flush dirt and debris from the vehicle's underbody. Your dealer or an underbody car washing system can do this. If not removed, rust and corrosion can develop. ...
Power Windows
Crew Cab Shown If available, the power window switches are located on each door. The driver door also has a switch for the passenger and rear windows. Push the switch to lower the window. Pull ...
Brake Fluid
The brake master cylinder reservoir is filled with DOT 3 brake fluid. See Engine Compartment Overview on page 10‑6 for the location of the reservoir. There are only two reasons why the brake ...