Trailer-Tow Mirrors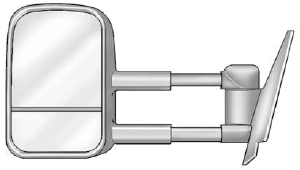 If the vehicle has towing mirrors, they can be adjusted for a clearer view of the objects behind you.
Manually pull out the mirror head to extend it for better visibility when towing a trailer.
The lower portion of the mirror is convex. A convex mirror's surface is curved to see more from the driver seat. The convex mirror can be adjusted manually to the driver preferred position for better vision.
The mirror may have a turn signal arrow that flashes in the direction of the turn or lane change.
See also:
Windows
Press the front of the switch to lower the window. Pull the switch up to raise it. Pushing or pulling the switch part of the way will open or close the window as long as the switch is operated. ...
Ejecting a Disc
CD (Eject): Press and release to eject the disc that is currently playing. The CD ejects from the bottom slot. A beep sounds and Ejecting Disc displays. Once the disc is ejected, Remove Disc displays ...
Airbag System Check
The airbag system does not need regularly scheduled maintenance or replacement. Make sure the airbag readiness light is working. See Airbag Readiness Light on page 5‑16 for more information. N ...