Trailer-Tow Mirrors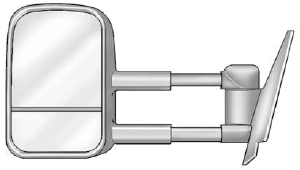 If the vehicle has towing mirrors, they can be adjusted for a clearer view of the objects behind you.
Manually pull out the mirror head to extend it for better visibility when towing a trailer.
The lower portion of the mirror is convex. A convex mirror's surface is curved to see more from the driver seat. The convex mirror can be adjusted manually to the driver preferred position for better vision.
The mirror may have a turn signal arrow that flashes in the direction of the turn or lane change.
See also:
Connecting a USB Storage Device or iPodВ®
To connect a USB storage device, connect the device to the USB port located in the instrument panel storage area. See Instrument Panel Storage on page 4‑1 for more information. The USB port c ...
When It Is Time for New Tires
Factors, such as maintenance, temperatures, driving speeds, vehicle loading, and road conditions affect the wear rate of the tires. Treadwear indicators are one way to tell when it is time for new ...
Driving on Wet Roads
Rain and wet roads can reduce vehicle traction and affect your ability to stop and accelerate. Always drive slower in these types of driving conditions and avoid driving through large puddles and dee ...