Trailer-Tow Mirrors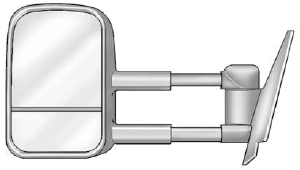 If the vehicle has towing mirrors, they can be adjusted for a clearer view of the objects behind you.
Manually pull out the mirror head to extend it for better visibility when towing a trailer.
The lower portion of the mirror is convex. A convex mirror's surface is curved to see more from the driver seat. The convex mirror can be adjusted manually to the driver preferred position for better vision.
The mirror may have a turn signal arrow that flashes in the direction of the turn or lane change.
See also:
Securing Child Restraints (Front Passenger Seat)
This vehicle has airbags. A rear seat is a safer place to secure a forward-facing child restraint. See Where to Put the Restraint on page 3‑41. In addition, the vehicle has a passenger sensin ...
Passing
More passing distance is needed when towing a trailer. Because the rig is longer, it is necessary to go farther beyond the passed vehicle before returning to the lane. ...
Operation
Radio with CD, Radio with CD/USB Similar Radio with CD, DVD, and USB Port The vehicle may have one of these radios as its audio system. ...