Tailgate Removal
The tailgate can be removed to allow for different loading situations.
Assistance may be needed with the removal to avoid damage to the vehicle.
On vehicles with a Rear Vision Camera, it must be disconnected before removing the tailgate. See Rear Vision Camera (RVC) on page 9‑68 for more information.
To remove the tailgate: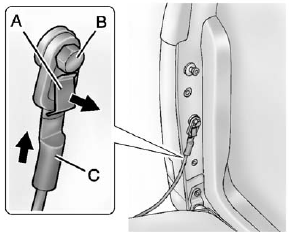 1. Raise the tailgate slightly, pull out and hold the cable retaining clip (A). Push the cable (C) up and off of the bolt (B). Repeat on the other side.
2. With the tailgate about halfway open, lift the right edge of the tailgate from the lower pivot.
On vehicles with the tailgate assist feature, raise the tailgate nearly all the way to the closed position prior to removing the left edge.
3. Move the tailgate to the right to release the left edge.
Reverse this procedure to reinstall the tailgate. Make sure the tailgate is secure.
See also:
Locking Rear Axle
Vehicles with a locking rear axle can give more traction on snow, mud, ice, sand, or gravel. It works like a standard axle most of the time, but when traction is low, this feature will allow the rear ...
Parental Control
The RSE system may have a Parental Control feature, depending on the radio. To enable Parental Control, press and hold the radio power button for more than two seconds to stop all system features such ...
Onstar.com
The website provides access to account information, manages the OnStar subscription, and allows viewing of videos of each service. Get subscription plan pricing and sign up for OnStar Vehicle Diag ...