Tailgate Removal
The tailgate can be removed to allow for different loading situations.
Assistance may be needed with the removal to avoid damage to the vehicle.
On vehicles with a Rear Vision Camera, it must be disconnected before removing the tailgate. See Rear Vision Camera (RVC) on page 9‑68 for more information.
To remove the tailgate: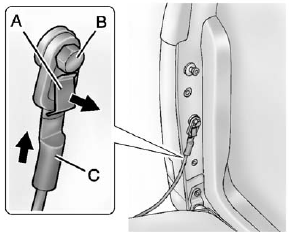 1. Raise the tailgate slightly, pull out and hold the cable retaining clip (A). Push the cable (C) up and off of the bolt (B). Repeat on the other side.
2. With the tailgate about halfway open, lift the right edge of the tailgate from the lower pivot.
On vehicles with the tailgate assist feature, raise the tailgate nearly all the way to the closed position prior to removing the left edge.
3. Move the tailgate to the right to release the left edge.
Reverse this procedure to reinstall the tailgate. Make sure the tailgate is secure.
See also:
Setting the Tone (Bass/Midrange/Treble)
BASS/MID/TREB (Bass, Midrange, or Treble): To adjust bass, midrange, or treble: 1. Press until the tone control tabs display. 2. Continue pressing to highlight the tab, or press the softkey under ...
Engine Overheating
The vehicle has several indicators to warn of engine overheating. There is an engine coolant temperature gauge on the instrument panel cluster. See Engine Coolant Temperature Gauge on page 5‑1 ...
Lap-Shoulder Belt
All seating positions in the vehicle have a lap-shoulder belt. If you are using a rear seating position with a detachable safety belt and the safety belt is not attached, see "Returning the Seat to ...