Tailgate Removal
The tailgate can be removed to allow for different loading situations.
Assistance may be needed with the removal to avoid damage to the vehicle.
On vehicles with a Rear Vision Camera, it must be disconnected before removing the tailgate. See Rear Vision Camera (RVC) on page 9‑68 for more information.
To remove the tailgate: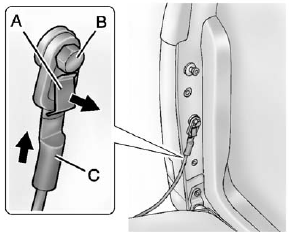 1. Raise the tailgate slightly, pull out and hold the cable retaining clip (A). Push the cable (C) up and off of the bolt (B). Repeat on the other side.
2. With the tailgate about halfway open, lift the right edge of the tailgate from the lower pivot.
On vehicles with the tailgate assist feature, raise the tailgate nearly all the way to the closed position prior to removing the left edge.
3. Move the tailgate to the right to release the left edge.
Reverse this procedure to reinstall the tailgate. Make sure the tailgate is secure.
See also:
Engine Exhaust
WARNING Engine exhaust contains carbon monoxide (CO) which cannot be seen or smelled. Exposure to CO can cause unconsciousness and even death. Exhaust may enter the vehicle if: • The vehicle idle ...
Brake Pedal Travel
See your dealer if the brake pedal does not return to normal height, or if there is a rapid increase in pedal travel. This could be a sign that brake service might be required. ...
If No Steam is Coming from the Engine Compartment
If an engine overheat warning is displayed but no steam can be seen or heard, the problem may not be too serious. Sometimes the engine can get a little too hot when the vehicle: ○ Climbs a ...