Safety Locks
The vehicle has rear door security locks to prevent passengers from opening the rear doors from the inside.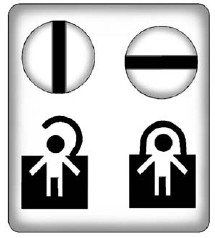 Open the rear doors to access the security locks on the inside edge of each door.
To set the locks, insert a key into the slot and turn it to the horizontal position. The door can only be opened from the outside with the door unlocked. To return the door to normal operation, turn the slot to the vertical position.
See also:
Turning the Rear Vision Camera System On or Off
To turn the rear vision camera system on or off: 1. Shift into P (Park). 2. Press the MENU button to enter the configure menu options, then press the MENU hard key to select Display or touch the Dis ...
Navigation
OnStar navigation requires the Directions and Connections service plan. Push to receive directions or have them sent to the vehicle navigation screen. Destinations can also be forwarded to the vehic ...
Convenience Net
Power Liftgate Shown, Manual Liftgate Similar A. Cargo Cover B. Cargo Cover Hooks C. Cargo Tie-Downs D. Convenience Net For vehicles with a convenience net (D), attach it to the vehicle using o ...