Safety Locks
The vehicle has rear door security locks to prevent passengers from opening the rear doors from the inside.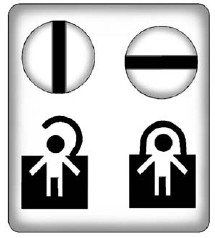 Open the rear doors to access the security locks on the inside edge of each door.
To set the locks, insert a key into the slot and turn it to the horizontal position. The door can only be opened from the outside with the door unlocked. To return the door to normal operation, turn the slot to the vertical position.
See also:
Rear Window Wiper/Washer
The rear wiper controls are on the end of the windshield wiper lever. ON: Press the upper portion of the button for continuous rear window wipes. OFF: The rear wiper turns off when the button is r ...
Weight of the Trailer Tongue
The tongue load (A) of any trailer is an important weight to measure because it affects the total gross weight of the vehicle. The Gross Vehicle Weight (GVW) includes the curb weight of the vehicle, a ...
Parking on Hills
WARNING Parking the vehicle on a hill with the trailer attached can be dangerous. If something goes wrong, the rig could start to move. People can be injured, and both the vehicle and the trailer ...