Safety Locks
The vehicle has rear door security locks to prevent passengers from opening the rear doors from the inside.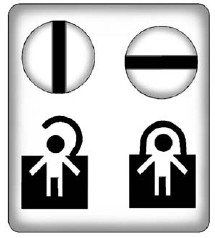 Open the rear doors to access the security locks on the inside edge of each door.
To set the locks, insert a key into the slot and turn it to the horizontal position. The door can only be opened from the outside with the door unlocked. To return the door to normal operation, turn the slot to the vertical position.
See also:
Storing the Tire Sealant and Compressor Kit
The tire sealant and compressor kit is located in the storage compartment on the driver side, at the rear of the vehicle. 1. Press down on the latch tab and pull the cover off to access the storage ...
Fabric/Carpet
Start by vacuuming the surface using a soft brush attachment. If a rotating brush attachment is being used during vacuuming, only use it on the floor carpet. Before cleaning, gently remove as much ...
What to Use
To determine what kind of fluid to use, see Recommended Fluids and Lubricants on page 11‑12. Always use the proper fluid. Notice: Use of the incorrect fluid may damage the vehicle and the damag ...