Dual Automatic Climate Control System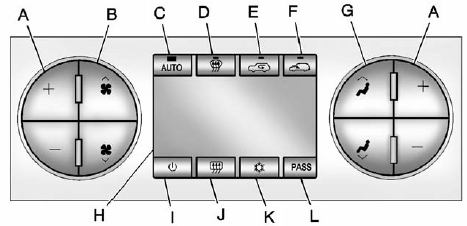 Dual Automatic Climate Control System
A. Driver and Passenger Temperature Controls
B. Fan Control
C. AUTO
D. Defrost
E. Air Recirculation
F. Outside Air
G. Air Delivery Mode Control
H. Display
I. Power Button
J. Rear Window Defogger
K. Air Conditioning
L. PASS (Passenger)
See Dual Automatic Climate Control System on page 8‑5.
See also:
2009 GMC Canyon Review
Remember the Chevrolet El Camino — the car that doubled as a truck? It's been gone from the U.S. market for more than 20 years, and GM's plan to produce its virtual successor in the Pontiac G8 s ...
Transferring Service
Push to request account transfer eligibility information. The Advisor can assist in canceling or removing account information. If OnStar receives information that vehicle ownership has changed, ...
Control of a Vehicle
Braking, steering, and accelerating are important factors in helping to control a vehicle while driving. ...