Dolly Towing (Front-Wheel-Drive Vehicles Only)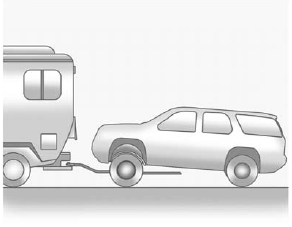 To tow a front-wheel-drive vehicle from the front with two wheels on the ground:
1. Put the front wheels on a dolly.
2. Move the shift lever to P (Park).
3. Set the parking brake.
4. Clamp the steering wheel in a straight-ahead position with a clamping device designed for towing.
5. Remove the key from the ignition.
6. Secure the vehicle to the dolly.
7. Release the parking brake.
See also:
All Terrain chassis and suspension
Based on the chassis of the 2011 Sierra HD trucks, the All Terrain HD features a fully boxed steel frame with exceptional strength and torsional stiffness. It incorporates the production models' n ...
File System and Naming
The song name that displays is the song name contained in the ID3 tag. If the song name is not present in the ID3 tag, then the radio displays the file name without the extension (such as .mp3) as th ...
Lockout Protection
If the driver side power door lock switch is pressed when the driver door is open and the key is in the ignition, all of the doors will lock and then the driver door will unlock. If the passenger sid ...