Dolly Towing (All-Wheel-Drive Vehicles)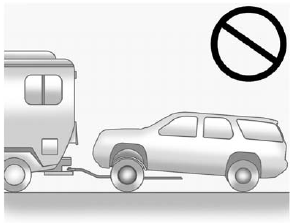 All-wheel-drive vehicles must not be towed with two wheels on the ground. To properly tow these vehicles, they should be placed on a platform trailer with all four wheels off of the ground or dinghy towed from the front.
See also:
Battery
This display shows the current battery voltage. If the voltage is in the normal range, the value will display. For example, the display may read BATTERY 13 VOLTS. Your vehicle's charging system regul ...
Head-Up Display (HUD)
WARNING If the HUD image is too bright or too high in your field of view, it may take you more time to see things you need to see when it is dark outside. Be sure to keep the HUD image dim and placed ...
Replacing Brake System Parts
The braking system on a vehicle is complex. Its many parts have to be of top quality and work well together if the vehicle is to have really good braking. The vehicle was designed and tested with top- ...