Dolly Towing (All-Wheel-Drive Vehicles)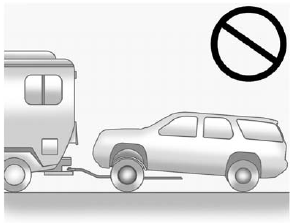 All-wheel-drive vehicles must not be towed with two wheels on the ground. To properly tow these vehicles, they should be placed on a platform trailer with all four wheels off of the ground or dinghy towed from the front.
See also:
Off-Road Driving
All-wheel-drive vehicles can be used for off-road driving. Vehicles without all-wheel drive and vehicles not equipped with All Terrain (AT) or On-Off Road (OOR) tires must not be driven off-road e ...
Recommended Fuel
Use regular unleaded gasoline with a posted octane rating of 87 or higher. If the octane rating is less than 87, an audible knocking noise, commonly referred to as spark knock, might be heard when dri ...
Object Detection System Messages
FORWARD COLLISION ALERT OFF If your vehicle has the Forward Collision Alert (FCA) system, this message may display if the FCA system cannot activate due to a temporary condition. See Forward Coll ...