Storing the Tools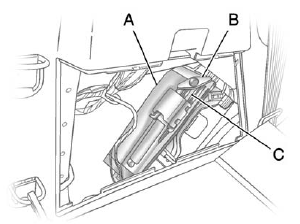 A. Tool Bag
B. Wing Bolt
C. Jack
Put back all tools as they were stored in the jack storage compartment and put the compartment cover back on.
1. Ensure that the bottom of the jack is facing toward you.
2. Replace the tool bag (A).
3. Turn the jack (C) on its side and place down on the holding bracket.
4. Reinstall the wing bolt (B) by turning clockwise.
5. To replace the cover, line up the tab at the front of the cover with the notch in the cover opening.
Push the cover in place and make sure that the rear clips are in the slots and push the cover closed.
Store the center cap or the plastic bolt-on wheel covers until a full size tire is put back on the vehicle.
When you replace the compact spare with a full-size tire, reinstall the bolt-on wheel covers or the center cap. Hand-tighten them over the wheel nuts, using the wrench.
See also:
Finish Damage
Quickly repair minor chips and scratches with touch-up materials available from your dealer to avoid corrosion. Larger areas of finish damage can be corrected in your dealer's body and paint shop. ...
High-Beam On Light
The high&-beam on light comes on when the high-beam headlamps are in use. See Headlamp High/Low-Beam Changer on page 6‑2 for more information. ...
Service Publications Ordering Information
Service Manuals Service Manuals have the diagnosis and repair information on the engines, transmission, axle, suspension, brakes, electrical, steering, body, etc. Service Bulletins Service Bulletin ...