Storing the Tools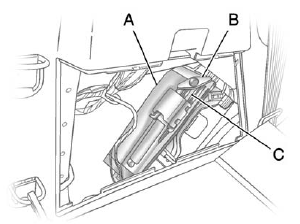 A. Tool Bag
B. Wing Bolt
C. Jack
Put back all tools as they were stored in the jack storage compartment and put the compartment cover back on.
1. Ensure that the bottom of the jack is facing toward you.
2. Replace the tool bag (A).
3. Turn the jack (C) on its side and place down on the holding bracket.
4. Reinstall the wing bolt (B) by turning clockwise.
5. To replace the cover, line up the tab at the front of the cover with the notch in the cover opening.
Push the cover in place and make sure that the rear clips are in the slots and push the cover closed.
Store the center cap or the plastic bolt-on wheel covers until a full size tire is put back on the vehicle.
When you replace the compact spare with a full-size tire, reinstall the bolt-on wheel covers or the center cap. Hand-tighten them over the wheel nuts, using the wrench.
See also:
Safety Belts
Refer to the following sections for important information on how to use safety belts properly: ○ Safety Belts on page 3‑12. ○ How to Wear Safety Belts Properly on page 3‑ ...
Wipe Parking
If the ignition is turned to LOCK/ OFF while the wipers are on LO, HI, or INT, they will immediately stop. If the windshield wiper lever is then moved to off before the driver door is opened or wi ...
Using this Manual
To quickly locate information about the vehicle, use the Index in the back of the manual. It is an alphabetical list of what is in the manual and the page number where it can be found. ...