Storing the Tools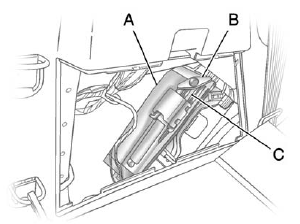 A. Tool Bag
B. Wing Bolt
C. Jack
Put back all tools as they were stored in the jack storage compartment and put the compartment cover back on.
1. Ensure that the bottom of the jack is facing toward you.
2. Replace the tool bag (A).
3. Turn the jack (C) on its side and place down on the holding bracket.
4. Reinstall the wing bolt (B) by turning clockwise.
5. To replace the cover, line up the tab at the front of the cover with the notch in the cover opening.
Push the cover in place and make sure that the rear clips are in the slots and push the cover closed.
Store the center cap or the plastic bolt-on wheel covers until a full size tire is put back on the vehicle.
When you replace the compact spare with a full-size tire, reinstall the bolt-on wheel covers or the center cap. Hand-tighten them over the wheel nuts, using the wrench.
See also:
Power Mirrors
Vehicles with outside power mirrors have controls located on the driver door. To adjust each mirror: 1. Press (A) or (B) to select the driver or passenger side mirror. 2. Press the arrows on the ...
Manual Rearview Mirror
Hold the mirror in the center to move it for a clearer view of behind your vehicle. Adjust the mirror to avoid glare from the headlamps behind you. Push the tab at the bottom of the mirror forward for ...
Special Application Services
○ Severe Commercial Use Vehicles Only: Lubricate chassis components every 5 000 km/ 3,000 mi. ○ Have underbody flushing service performed once a year. ...