Storing the Flat Tire
1. Remove the cable package from the jack storage area.
2. Remove the small center cap by tapping the back of the cap with the extension of the shaft, if the vehicle has aluminum wheels.
3. Put the flat tire in the rear storage area with the valve stem pointing toward the rear of the vehicle.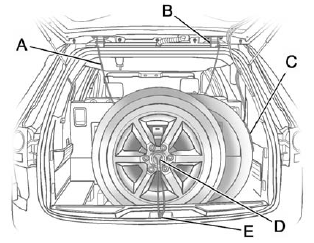 A. Cable
B. Liftgate Hinges
C. Spare Tire Heat Shield
D. Center of the Wheel
E. Door Striker
4. Pull the cable (A) through the door striker (E), the center of the wheel (D), and the plastic spare tire heat shield (C), as shown.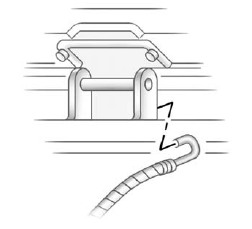 5. Hook the cable onto the outside portion of the liftgate hinges (B).
6. Hook the other end of the cable onto the outside portion of the liftgate hinge on the other side of the vehicle.
7. Pull on the cable to make sure it is secure.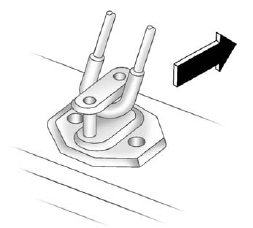 8. Make sure the metal tube is centered at the striker. Push the tube toward the front of the vehicle.
9. Close the liftgate and make sure it is latched properly.
See also:
Customer Assistance Offices (Mexico)
To contact the Customer Assistance Center (CAC), use the phone numbers listed in this section. Customer assistance is available Monday through Friday, 08:00 to 20:00 hours, and Saturdays from 08:00 t ...
Cigarette Lighter
To use the cigarette lighter, push it in all the way, and let go. When it is ready for use, the lighter pops back out. Notice: Holding a cigarette lighter in while it is heating does not let the ligh ...
Driving on Hills
Driving safely on hills requires good judgment and an understanding of what the vehicle can and cannot do. WARNING Many hills are simply too steep for any vehicle. Driving up hills can cause the ...