Storing the Flat Tire
1. Remove the cable package from the jack storage area.
2. Remove the small center cap by tapping the back of the cap with the extension of the shaft, if the vehicle has aluminum wheels.
3. Put the flat tire in the rear storage area with the valve stem pointing toward the rear of the vehicle.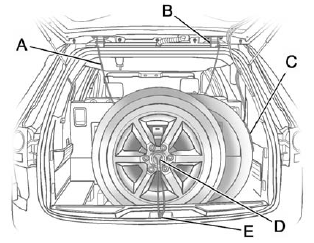 A. Cable
B. Liftgate Hinges
C. Spare Tire Heat Shield
D. Center of the Wheel
E. Door Striker
4. Pull the cable (A) through the door striker (E), the center of the wheel (D), and the plastic spare tire heat shield (C), as shown.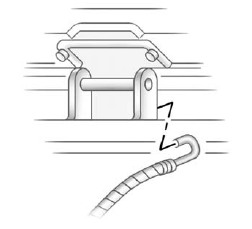 5. Hook the cable onto the outside portion of the liftgate hinges (B).
6. Hook the other end of the cable onto the outside portion of the liftgate hinge on the other side of the vehicle.
7. Pull on the cable to make sure it is secure.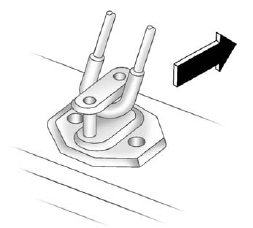 8. Make sure the metal tube is centered at the striker. Push the tube toward the front of the vehicle.
9. Close the liftgate and make sure it is latched properly.
See also:
Audio System
When using the in-vehicle Bluetooth system, sound comes through the vehicle's front audio system speakers and overrides the audio system. Use the audio system volume knob, during a call, to change the ...
MP3 Radio with a Six-Disc CD Player
To set the time and date: 1. Turn the ignition key to ACC/ ACCESSORY or ON/RUN, then press the button to turn the radio on. 2. Press the MENU button and then the softkey under the tab to display H ...
Instantaneous Economy and Active Fuel Managementв"ў Indicator
If the vehicle has this display, press the trip/fuel button until INST ECON V8 displays. This display shows the current fuel economy at a particular moment and will change frequently as driving condit ...