Storing the Flat Tire
1. Remove the cable package from the jack storage area.
2. Remove the small center cap by tapping the back of the cap with the extension of the shaft, if the vehicle has aluminum wheels.
3. Put the flat tire in the rear storage area with the valve stem pointing toward the rear of the vehicle.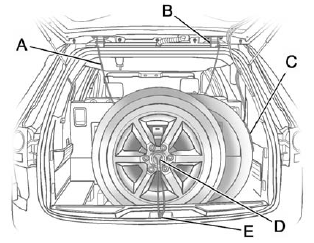 A. Cable
B. Liftgate Hinges
C. Spare Tire Heat Shield
D. Center of the Wheel
E. Door Striker
4. Pull the cable (A) through the door striker (E), the center of the wheel (D), and the plastic spare tire heat shield (C), as shown.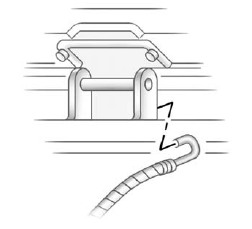 5. Hook the cable onto the outside portion of the liftgate hinges (B).
6. Hook the other end of the cable onto the outside portion of the liftgate hinge on the other side of the vehicle.
7. Pull on the cable to make sure it is secure.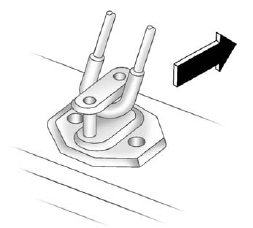 8. Make sure the metal tube is centered at the striker. Push the tube toward the front of the vehicle.
9. Close the liftgate and make sure it is latched properly.
See also:
Roadside Assistance Program
U.S.: 1-888-881-3302 TTY Users (U.S.): 1-888-889-2438 Canada: 1-800-268-6800 Mexico: 01-800-466-0801 As the owner of a new GMC, you are automatically enrolled in the Roadside Assistance program. ...
Lamp Messages
AUTOMATIC LIGHT CONTROL OFF This message displays when the automatic headlamps are turned off. This message clears itself after 10 seconds. AUTOMATIC LIGHT CONTROL ON This message displays when th ...
Confident and agile driving experience
Two new engines are offered on all GMC Terrain models, each with fuel-saving direct injection and variable valve timing technology. Vehicle highlights include: New 3.0L DOHC direct injected V-6 ...