Storing the Spare Tire
WARNING
The underbody-mounted spare tire needs to be stored with the valve stem pointing down. If the spare tire is stored with the valve stem pointing upwards, the secondary latch will not work properly and the spare tire could loosen and suddenly fall from the vehicle. If this happened when the vehicle was being driven, the tire might contact a person or another vehicle, causing injury and damage to itself. Be sure the underbody-mounted spare tire is stored with the valve stem pointing down.
WARNING
Storing a jack, a tire, or other equipment in the passenger compartment of the vehicle could cause injury. In a sudden stop or collision, loose equipment could strike someone. Store all these in the proper place.
To store the spare tire:
1. Lay the compact spare tire near the rear of the vehicle with the valve stem down.
2. Reinstall the plastic spare tire heat shield on the compact spare tire.
3. Slide the cable retainer through the center of the wheel and start to raise the compact spare tire.
Make sure the retainer is fully seated across the underside of the wheel.
4. When the compact spare tire is almost in the stored position, turn the tire so the valve is toward the rear of the vehicle.
This position helps when checking the air pressure in the compact spare tire.
5. Raise the tire fully against the underside of the vehicle.
Continue turning the wrench until you feel more than two clicks.
This indicates that the compact spare tire is secure and the cable is tight. The spare tire hoist cannot be overtightened.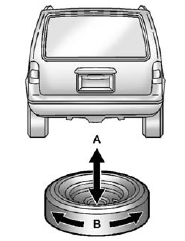 6. Make sure the tire is stored securely. Push, pull (A), and then try to turn (B) the tire. If the tire moves, use the wrench to tighten the cable.
See also:
Hitches
Use the correct hitch equipment. See your dealer or a hitch dealer for assistance. ○ The rear bumper on the vehicle is not intended for hitches. Do not attach rental hitches or other bumper-t ...
Additional Factors Affecting System Operation
Safety belts help keep the passenger in position on the seat during vehicle maneuvers and braking, which helps the passenger sensing system maintain the passenger airbag status. See "Safety Belt ...
Fuel Range
Press the trip/fuel button until FUEL RANGE displays. This display shows the approximate number of remaining kilometers (km) or miles the vehicle can be driven without refueling. The display will show ...