Storing the Spare Tire
WARNING
The underbody-mounted spare tire needs to be stored with the valve stem pointing down. If the spare tire is stored with the valve stem pointing upwards, the secondary latch will not work properly and the spare tire could loosen and suddenly fall from the vehicle. If this happened when the vehicle was being driven, the tire might contact a person or another vehicle, causing injury and damage to itself. Be sure the underbody-mounted spare tire is stored with the valve stem pointing down.
WARNING
Storing a jack, a tire, or other equipment in the passenger compartment of the vehicle could cause injury. In a sudden stop or collision, loose equipment could strike someone. Store all these in the proper place.
To store the spare tire:
1. Lay the compact spare tire near the rear of the vehicle with the valve stem down.
2. Reinstall the plastic spare tire heat shield on the compact spare tire.
3. Slide the cable retainer through the center of the wheel and start to raise the compact spare tire.
Make sure the retainer is fully seated across the underside of the wheel.
4. When the compact spare tire is almost in the stored position, turn the tire so the valve is toward the rear of the vehicle.
This position helps when checking the air pressure in the compact spare tire.
5. Raise the tire fully against the underside of the vehicle.
Continue turning the wrench until you feel more than two clicks.
This indicates that the compact spare tire is secure and the cable is tight. The spare tire hoist cannot be overtightened.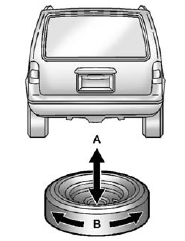 6. Make sure the tire is stored securely. Push, pull (A), and then try to turn (B) the tire. If the tire moves, use the wrench to tighten the cable.
See also:
Safety Belt Extender
If the vehicle's safety belt will fasten around you, you should use it. But if a safety belt is not long enough, your dealer will order you an extender. When you go in to order it, take the heaviest ...
Starting the Engine Using Remote Start
To start the vehicle: 1. Aim the RKE transmitter at the vehicle. 2. Press and release on the RKE transmitter. 3. Immediately after completing Step 2, press and hold until the parking lamps flash. ...
When to Change Engine Oil
This vehicle has a computer system that indicates when to change the engine oil and filter. This is based on a combination of factors which include engine revolutions, engine temperature, and mile ...