Removing Tools
The tools needed to remove the spare tire are located in the storage compartment on the driver side, at the rear of the vehicle.
1. Open the jack storage compartment by pulling on the latch tab, located toward the rear of the vehicle, and pulling the cover off.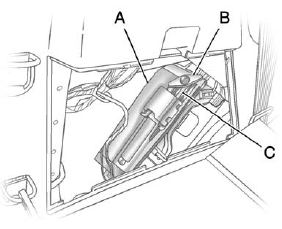 A. Tool Bag
B. Wing Bolt
C. Jack
2. Remove the wing bolt (B) by turning it counterclockwise.
3. Push the jack (C) up out of the holding bracket and remove the tool bag (A).
4. Turn the jack on its side, with the bottom facing toward you.
5. Pull the jack straight out, bottom first.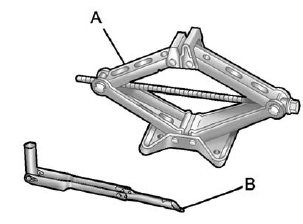 A. Jack
B. Wrench (Three-Piece Shown, One-Piece Similar)
The tools you will be using include the jack (A) and wrench (B).
See also:
Add-on Electrical Equipment
The OnStar system is integrated into the electrical architecture of the vehicle. Do not add any electrical equipment. See Add-On Electrical Equipment on page 9‑64. Added electrical equipment ...
When the System Does Not Seem To Work Properly
If the LDW symbol does not appear: ○ The lane markings on the road may not be seen. ○ The camera sensor may be blocked by dirt, snow or ice. ○ The windshield may be damaged. ` ...
Object Detection System Messages
FORWARD COLLISION ALERT OFF If your vehicle has the Forward Collision Alert (FCA) system, this message may display if the FCA system cannot activate due to a temporary condition. See Forward Coll ...