Removing Tools
The tools needed to remove the spare tire are located in the storage compartment on the driver side, at the rear of the vehicle.
1. Open the jack storage compartment by pulling on the latch tab, located toward the rear of the vehicle, and pulling the cover off.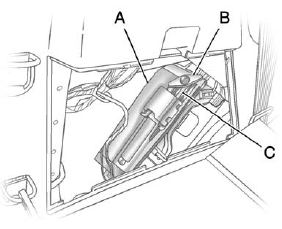 A. Tool Bag
B. Wing Bolt
C. Jack
2. Remove the wing bolt (B) by turning it counterclockwise.
3. Push the jack (C) up out of the holding bracket and remove the tool bag (A).
4. Turn the jack on its side, with the bottom facing toward you.
5. Pull the jack straight out, bottom first.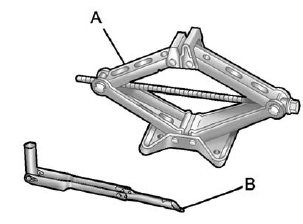 A. Jack
B. Wrench (Three-Piece Shown, One-Piece Similar)
The tools you will be using include the jack (A) and wrench (B).
See also:
California Fuel Requirements
If the vehicle is certified to meet California Emissions Standards, it is designed to operate on fuels that meet California specifications. See the underhood emission control label. If this fuel i ...
Tire and Loading Information Label
Label Example A vehicle specific Tire and Loading Information label is attached to the vehicle's center pillar (B-pillar). With the driver's door open, you will find the label attached ...
Antilock Brake System (ABS)
This vehicle has the Antilock Brake System (ABS), an advanced electronic braking system that helps prevent a braking skid. When the engine is started and the vehicle begins to drive away, ABS check ...