Cruise Control
With cruise control, a speed of about 40 km/h (25 mph) or more can be maintained without keeping your foot on the accelerator. Cruise control does not work at speeds below about 40 km/h (25 mph).
When the brakes are applied, the cruise control is disengaged.
WARNING
Cruise control can be dangerous where you cannot drive safely at a steady speed. So, do not use the cruise control on winding roads or in heavy traffic.
Cruise control can be dangerous on slippery roads. On such roads, fast changes in tire traction can cause excessive wheel slip, and you could lose control. Do not use cruise control on slippery roads.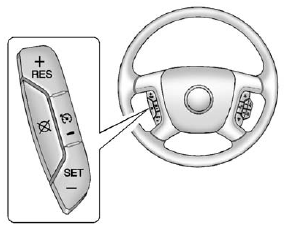 The cruise control buttons are located on left side of the steering wheel.

(On/Off): Press to turn cruise control on and off. The indicator comes on when cruise control is on.
+ RES (Resume/Accelerate):
Press briefly to make the vehicle resume to a previously set speed, or press and hold to accelerate.
SET–: Press to set the speed and activate cruise control or to make the vehicle decelerate.

(Cancel): Press to disengage cruise control without erasing the set speed from memory.
See also:
Yukon Denali in the Market
If you have a boat, trailer or anything that needs to be towed, the GMC Yukon Denali is a great way to travel. It's even better if you have a family. Yes, the country is in a panic over gas prices ...
Rear Seat Entertainment (RSE) System
The vehicle may have a DVD Rear Seat Entertainment (RSE) system. The RSE system works with the vehicle's audio system. The DVD player is part of the front radio. The RSE system includes a radio with ...
Ultrasonic Parking Assist
If available, the Ultrasonic Rear Parking Assist (URPA) system assists the driver with parking and avoiding objects while in R (Reverse). URPA operates at speeds less than 8 km/h (5 mph). The sensors ...