Sensors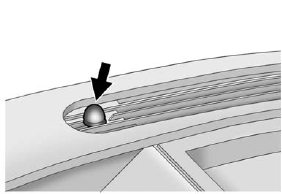 The solar sensor, located in the defrost grille in the middle of the instrument panel, monitors the solar heat. Do not cover the solar sensor or the system will not work properly.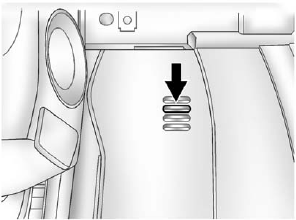 The interior temperature sensor located on the instrument panel to the right of the steering column, measures the temperature of the air inside the vehicle.
There is also an exterior temperature sensor located behind the front grille. This sensor reads the outside air temperature and helps maintain the temperature inside the vehicle. Any cover on the front of the vehicle could cause a false reading in the displayed temperature.
The climate control system uses the information from these sensors to maintain comfort settings by adjusting the temperature, fan speed, and air delivery mode.
The system may also supply cooler air to the side of the vehicle facing the sun. The recirculation mode will also be used as needed to maintain cool outlet temperatures.
See also:
High Voltage Devices and Wiring
WARNING Exposure to high voltage can cause shock, burns, and even death. The high voltage components in the vehicle can only be serviced by technicians with special training. High voltage components ...
DVD Error Messages
Player Error: This message displays when there are disc load or eject problems. Disc Format Error: This message displays if the disc is inserted with the disc label wrong side up, or if the disc is d ...
Manual Operation
The air delivery mode or fan speed can be manually adjusted. (Fan Control): Press to increase or decrease the fan speed. Pressing or while in automatic control places the fan speed under manual ...