Sensors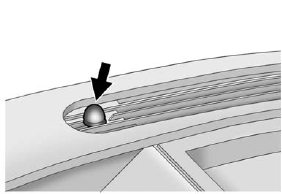 The solar sensor, located in the defrost grille in the middle of the instrument panel, monitors the solar heat. Do not cover the solar sensor or the system will not work properly.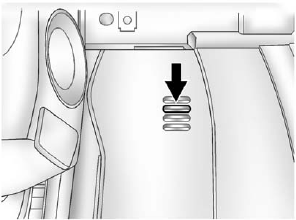 The interior temperature sensor located on the instrument panel to the right of the steering column, measures the temperature of the air inside the vehicle.
There is also an exterior temperature sensor located behind the front grille. This sensor reads the outside air temperature and helps maintain the temperature inside the vehicle. Any cover on the front of the vehicle could cause a false reading in the displayed temperature.
The climate control system uses the information from these sensors to maintain comfort settings by adjusting the temperature, fan speed, and air delivery mode.
The system may also supply cooler air to the side of the vehicle facing the sun. The recirculation mode will also be used as needed to maintain cool outlet temperatures.
See also:
Manual Liftgate Operation
Unlock the vehicle before opening the liftgate. Press the touch pad located in the handle of the liftgate, above the license plate, and lift up to open. Do not press the touch pad while closing the ...
Gate Operator and Canadian Programming
If you have questions or need help programming the Universal Home Remote System, call 1-800-355-3515 or go to www.homelink.com. Canadian radio-frequency laws require transmitter signals to time out o ...
Temperature – A, B, C
The temperature grades are A (the highest), B, and C, representing the tire's resistance to the generation of heat and its ability to dissipate heat when tested under controlled conditions on a specif ...