Trademarks and License Agreements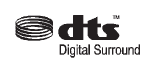 Manufactured under license under U.S. Patent #'s: 5,451,942;
5,956,674; 5,974,380; 5,978,762;
6,487,535 & other U.S. and worldwide patents issued &
pending. DTS and DTS Digital Surround are registered trademarks and the DTS logos and Symbol are trademarks of DTS, Inc.
В© 1996-2010 DTS, Inc. All Rights Reserved.

Manufactured under license from Dolby Laboratories. Dolby and the double-D symbol are trademarks of Dolby Laboratories. Copyright 1992-2010 Dolby Laboratories.
All rights reserved.
See also:
Safety Locks
The vehicle has rear door security locks to prevent passengers from opening the rear doors from the inside. Open the rear doors to access the security locks on the inside edge of each door. To set ...
Battery
Refer to the replacement number on the original battery label when a new battery is needed. WARNING Battery posts, terminals, and related accessories contain lead and lead compounds, chemicals k ...
Lane Departure Warning (LDW) Light
For vehicles with the lane departure warning system, this light is located on the center of the instrument panel. This light briefly comes on green while starting the vehicle. If it does not, h ...