Trademarks and License Agreements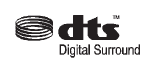 Manufactured under license under U.S. Patent #'s: 5,451,942;
5,956,674; 5,974,380; 5,978,762;
6,487,535 & other U.S. and worldwide patents issued &
pending. DTS and DTS Digital Surround are registered trademarks and the DTS logos and Symbol are trademarks of DTS, Inc.
В© 1996-2010 DTS, Inc. All Rights Reserved.

Manufactured under license from Dolby Laboratories. Dolby and the double-D symbol are trademarks of Dolby Laboratories. Copyright 1992-2010 Dolby Laboratories.
All rights reserved.
See also:
Windshield and Wiper Blades
Clean the outside of the windshield with glass cleaner. Clean rubber blades using a lint-free cloth or paper towel soaked with windshield washer fluid or a mild detergent. Wash the windshield thoro ...
Turn Signal Indicator
The vehicle may also have a turn signal indicator on the mirror. An arrow on the mirror flashes in the direction of the turn or lane change. ...
Before Driving
The RSE is for rear seat passengers only. The driver cannot safely view the video screen while driving. In severe or extreme weather conditions, the RSE system may not work until the temperature ...