Floor Console Storage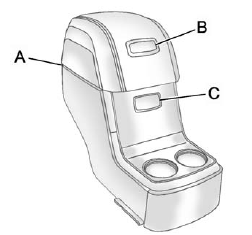 For vehicles with a second row center console, open each area to access the storage compartment inside.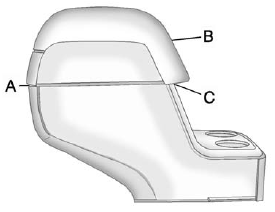 To access the upper storage area, press the upper button (B) and lift up. To access the lower storage area, press the lower button (C) and lift up. The top of the console can be folded forward for increased storage area. Lift up on the handle on the rear of the console (A) and pull forward.
WARNING
Never open more than one of the three latches at a time to help avoid personal injury and damage to the console.
Notice: Slide the front console as far forward as it will go before folding the second row console forward to help prevent damage to the consoles.
See also:
Vehicle Load Limits
It is very important to know how much weight your vehicle can carry. This weight is called the vehicle capacity weight and includes the weight of all occupants, cargo, and all nonfactory-installed opt ...
Driving on Wet Roads
Rain and wet roads can reduce vehicle traction and affect your ability to stop and accelerate. Always drive slower in these types of driving conditions and avoid driving through large puddles and dee ...
Antilock Brake System (ABS) Warning Light
The ABS warning light comes on briefly when the ignition key is turned to ON/RUN. This is normal. If the light does not come on then, have it fixed so it will be ready to warn you if there is a pro ...