Shoulder Belt Height Adjuster
The vehicle has a shoulder belt height adjuster for the driver and right front passenger seating positions.
Adjust the height so the shoulder portion of the belt is on the shoulder but not falling off of it. The belt should be close to but not contacting the neck. Improper shoulder belt height adjustment could reduce the effectiveness of the safety belt in a crash. See How to Wear Safety Belts Properly on page 3‑16.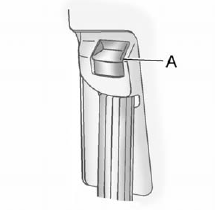 To move it down, push down on the release button (A) and move the height adjuster to the desired position. You can move the height adjuster up by pushing up on the shoulder belt guide.
After the adjuster is set to the desired position, try to move it down without pushing the release button to make sure it has locked into position.
See also:
Add-On Electrical Equipment
Notice: Do not add anything electrical to the vehicle unless you check with your dealer first. Some electrical equipment can damage the vehicle and the damage would not be covered by the vehicle ...
How to Add Coolant to the Radiator
WARNING An electric engine cooling fan under the hood can start up even when the engine is not running and can cause injury. Keep hands, clothing, and tools away from any underhood electric fan. WAR ...
Filling the Tank
If the vehicle has a diesel engine, see the Duramax diesel supplement for more information. WARNING Fuel vapor burns violently and a fuel fire can cause bad injuries. To help avoid injuries to you ...