Shoulder Belt Height Adjuster
The vehicle has a shoulder belt height adjuster for the driver and right front passenger seating positions.
Adjust the height so the shoulder portion of the belt is on the shoulder but not falling off of it. The belt should be close to but not contacting the neck. Improper shoulder belt height adjustment could reduce the effectiveness of the safety belt in a crash. See How to Wear Safety Belts Properly on page 3‑16.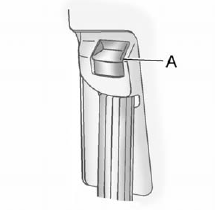 To move it down, push down on the release button (A) and move the height adjuster to the desired position. You can move the height adjuster up by pushing up on the shoulder belt guide.
After the adjuster is set to the desired position, try to move it down without pushing the release button to make sure it has locked into position.
See also:
Tires
Every new GM vehicle has high-quality tires made by a leading tire manufacturer. See the warranty manual for information regarding the tire warranty and where to get service. For additional informatio ...
Roadside Assistance Program (U.S. and Canada)
For U.S.-purchased vehicles, call 1-888-881-3302; (Text Telephone (TTY): 1-888-889-2438). For Canadian-purchased vehicles, call 1-800-268-6800. Service is available 24 hours a day, 365 days a year. ...
Tire Terminology and Definitions
Air Pressure: The amount of air inside the tire pressing outward on each square inch of the tire. Air pressure is expressed in kPa (kilopascal) or psi (pounds per square inch). Accessory Weight: ...